Introducing Tulip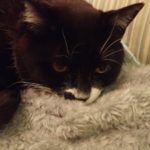 The first time I laid eyes on our feral cat Tulip she was in a Have-A-Heart Trap that smelled like tuna
fish and urine.She was wet and cold, shivering in the far reaches of the cage in order to give as much distance from her captors. Despite all that, she was beautiful! Her black and white coat and round little facial features made her appear sweet and kind. Tulip was indeed a feral cat.
What is a Feral Cat
A feral cat is a cat that was born outside and receives no socialization with humans. They are fearful of humans and would rather flee from the human than attack. Feral cats would only lash out if trapped with no means of escape. Feral cats can have certain levels based on how many generations the population has been on their own, human social interaction as a feeding station, and individual personality. Feral cats will usually live in a colony that may also include domesticated cat that has lost their owners in some manner. They are not wild in the sense that most of them require food from human sources even if that means picking from a dumpster.
In fact, that was Tulip's story.  She and her babies were living behind a dumpster at the condominium complex where my mother was living. Some of my mom's neighbors started helping the little family out by bringing cat food and placing it under the dumpster for them. Unfortunately, there were some complaints from the non-feline fan club around the condos. The condo association then announced that the feeding needed to stop and in fact the pests were to be exterminated at some future date.
Trapping, Neutering and Release of Feral Cats
You can't imagine the horror of my mother and her neighbors. The thought of the destruction of this little family was too much to bear and they reached out to me and the Cat Clinic of Plymouth for help. We were able to find a kitty angel that spent most of her time volunteering to help trap feral cats. She would work to get them veterinary care and then either re-release them spayed, neutered and vaccinated or would find placement for them if they could be socialized. Obviously this little family could not be released at the same area. So that posed another dilemma. Where would this little family go?
The Cat Clinic of Plymouth volunteered to help with the veterinary care once they were captured with the caveat that the neighbors would find a place where they could go. Interestingly enough capturing these little cats was the easy part. They caught two males first. One was pretty well socialized and was adopted by one of our wonderful clients and transitioned to household living well. The other male was extremely feral. He was adopted by one of our wonderful veterinary technicians and was able to adjust to his new colony and indoor living but never socialized with humans.
They next caught the two baby cats who at this time were months old and therefore more difficult to socialize. At the time there were no options for this rag tag team so they remained at the clinic taking up my cage space for several months. They slowly became more and more socialized as a result of their forced loving from their veterinary technicians at the Cat Clinic of Plymouth. The boy cats were finally adopted to one of the neighbors after causing much commotion at the clinic. The staff would put them in an exam room overnight so they could play with a little more room than a double wide cat condominium. The boy cats were able to somehow manage to get the cover off of the heating duct and enter the duct system overnight. It took hours of removing ducts from the heating system to finally capture them!
Finally, Tulip was trapped. After her veterinary care, she adjusted to cage living but clearly was not socialized. With the help of Victor, our hospital cat, she began very slowly adjust to human companionship. After almost a year of cage living and no prospects, she began to show some progress. We could at least touch her with a brush without her striking out from the back of the cage obviously scared out of her mind!
Happy Endings
While this was developing, I lost my elderly dog. I figured that this was an opportunity for Tulip. There was an opening at my house. Maybe just maybe, she would transfer her crush from Victor to my male cat. Luckily that worked out. We moved her cage into my back bedroom and allowed everyone to visit. With only mild hostility from my female cat Olive, we slowly made the transition from cage to room to house.
I would still consider Tulip somewhat feral. After years of working with her she can socialize with us allowing us to brush her, pet her with one hand under certain conditions. She still cannot be picked up, medicated or treated for fleas without a great deal of planning and effort, in other words, capturing her when she comes for her meal and scruffing her on the floor while my husband attempts to treat her. Even so, she always forgives us. And she has no interest in going outside again ever.
To learn more about cat care and cat behavior, go to  Cat Clinic Blog
By Cassandra Kelley DVM, veterinarian and owner Cat Clinic of Plymouth