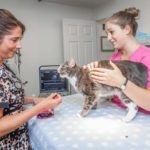 We have already talked about why cats need preventative care. How important it is to get them checked out by their veterinarian at least yearly to avoid missing diseases and problems until they are severe. Cats are stoic animals that don't show symptoms until the disease is advanced.
Also, we have spent time learning how to make veterinary visits less stressful and more pleasant for all involved. Picking out the perfect carrier and learning how to easily get your cat into the carrier has all been discussed.
But we still can't get our cat to the animal hospital. Why? Because we work too much.
If you are a professional who is already struggling to maintain that work life balance that we all hear so much about then you know how hard it is to make it to your own appointments let alone get your cat to the veterinarian.
At the Cat Clinic of Plymouth, we strive to make sure that we make taking your cat to their appointments as convenient as possible.
Drop off appointments are available by appointment. Drop off your cat for the day and we can arrange to complete the services needed and contact you by telephone with the results.
Later hours on Tuesday and Thursday. We are open until 7 pm to allow for later appointments of later pick up times for cats that have spent the day with us.
Saturday openings. We are open until 2 pm every Saturday for those Monday through Friday 9 to 5 ers.
Let us know what else we can do to make it convenient for you, the professional, to get the cat care they deserve! We are willing to try!