The Cat Clinic Staff has complied a list of trusted online cat resources to help you find information about your cat.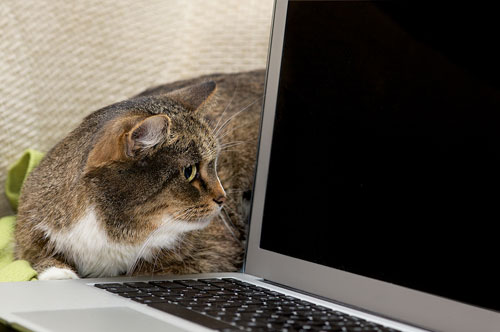 General
catvets.com The American Association of Feline Practitioners has trusted information regarding feline health. But it's not just for vets they also have a "Cat Owners" tab!
www.pethealthnetwork.com/cats-home  A veterinary approved website offering an array of information on various feline questions!
catwellness.org The wellness of your cat is very important!
www.catwatchnewsletter.com/  Great monthly read to add to your list! Check it out!
www.perfectpaws.com/cat_training_and_cat_behavior.html Offers a great article on some basic trainable problems!
www.improvenet.com/a/guide-to-pet-safe-house-plants Did you know there are various plants that you may have in your house that are toxic to your cat?
---
Diseases
felinecrf.com  Check this site for more info on chronic renal failure (kidney failure) in cats.
www.mspca.org/angell_services/i-131-therapy-program-2/ Check this site out if you are considering iodine treatment for your cat with hyperthyroidism. 
heartwormsociety.org  Cats are at risk for getting heartworm too! Make sure your cat is protected! Check out this site for more information!
capcvet.org Companion Animal Parasite Council offers detailed information on the various parasites cats can get (and some of them they can pass on to YOU!)
petdental.com  Offers information on dental care for your feline friend!
marvistavet.com Check out their informative monthly newsletter!
felinediabetes.com Whether you find out your cat has diabetes or want more information on ways to try to prevent your cat from becoming diabetic this site offers some great additional information.
---
Adopt a Cat
---
House Sitting
---
Cat Products
AlphaTrak Meter for Diabetic Cats to check blood sugars on your diabetic cats
Hill's Prescription Diets for Cats prescription feline diets!
Purina Cat Foods feline diets>
Royal Canin Cat Foods feline diets.
Veterinary Oral Health Council Accepted Products Vet Oral Health Council: offers various products for feline oral care!
---
Flea and Tick Products
Advantage Multi for Cats parasite control only for cats!
Petparents from Bayer more information from the company that brings us Advantage Multi for Cats.
---
Pet Insurance and Payment Plans
Trupanion Pet Insurance get free quote
ASPCA Pet Insurance get a free quote
Care Credit "Always there when you need it". Acts like a credit card and allows you to pay off your bill in monthly installments! Get more details by going online to this website of come visit us at the clinic and we can give you more information!
---
Poison Control