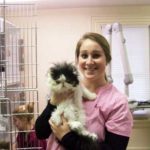 What is Cat Scratch Fever? A visit to your veterinarian could prevent this disease.
Not only is Cat Scratch Fever a groovy song from the 70's, it is also a bacterial infection that can affect humans. It is transmitted through bites and scratches from cats. Cat Scratch Disease can also be transmitted from an infected cat to a human if the cat comes in contact with the human's open wound or eyes.  This makes it a zoonotic disease, one that can be passed from animal to human.
The bacteria are Bartonella henselae and are one of the most common bacteria in the world. About 40% of cats will carry these bacteria at some point in their lives, very commonly when they are kittens. It is believed that the bacteria are transmitted to cats through fleas, another important reason to protect your cat against fleas all year round. For more information on flea prevention see Infested .  The bacteria are transmitted to the cat when it grooms itself and inadvertently ingests the feces of the flea. Humans cannot contract the disease directly through fleas but the disease can be transmitted to humans and cats through ticks.
Cat Scratch Disease symptoms
Most cats are not clinically sick when they are infected with Bartonella henselae. Occasionally, a cat will present with fever, muscle aches and swollen lymph nodes to the veterinarian but treatment is not always required. While most cases in humans are generally mild, it is estimated that over 25,000 people in the U.S. are hospitalized each year for symptoms of Cat Scratch Disease.
Symptoms usually appear 7-14 days after exposure and can include….
Reddish small solid rounded bump or papule at the site of scratch or bite
Swelling and appearance of infection at site
Swelling of lymph nodes nearest the site of scratch or bite
Mild fever
Chills
Fatigue
General malaise
Lack of appetite
Muscle pain (myalgia)
Nausea or abdominal cramps
Occasional serious effects on internal organs in children under 5 or those immunocompromised individuals.
However sometimes symptoms don't occur for months making diagnosis difficult. When I was finally diagnosed with Cat Scratch Disease years ago, I had already been tested for HIV and my affected lymph node was biopsied for cancer. Luckily those tests came back negative and revealed that I had simply been infected with Bartonella henselae!
Prevention of Cat Scratch Disease
Fortunately Cat Scratch Disease is not fatal in humans but can cause serious issues for immunocompromised people.  Here are the CDC's (Center for Disease Control) recommendations to prevent Cat Scratch Disease in people.
People
Do:
A cat's paw with long sharp nails.
Wash cat bites and scratches right away with soap and running water.
Wash your hands with soap and running water after playing with your cat, especially if you live with young children or people with weakened immune systems.
Since cats less than one year of age are more likely to have CSD and spread it to people, persons with a weakened immune system should adopt cats older than one year of age.
Do not:
Play rough with your pets because they may scratch and bite.
Allow cats to lick your open wounds.
Pet or touch stray or feral cats.
Cats
Do:
Control fleas
Keep your cat's nails
Apply a flea product (topical or oral medication) as directed by your veterinarian.

BEWARE: Over-the-counter flea products may not be safe for cats. Check with your veterinarian before applying ANY flea product to make sure it is safe for your cat and your family.
Check for fleas by using a flea comb on your cat to inspect for flea dirt.
Control fleas in your home by
Vacuuming frequently
Contacting a pest-control agent if necessary
Protect your cat's health
Schedule routine veterinary health check-ups.
Keep cats indoors to

Decrease their contact with fleas
Prevent them from fighting with stray or potentially infected animals
From http://www.cdc.gov/healthypets/diseases/cat-scratch.html
Although most humans do not require treatment, alert your doctor if you have any symptoms of Cat Scratch Disease. Just because Cat Scratch Fever is a groovy song, I can assure becoming symptomatic due to Cat Scratch Fever is not groovy!
By Cassandra Kelley DVM, veterinarian and owner Cat Clinic of Plymouth