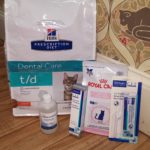 Most people brush their teeth twice daily. They see a dentist twice yearly for dental cleanings. They floss, they whiten and they brighten. But what about your cat? What about Feline Dentistry? February is Dental Month, the month that we focus on all the benefits of oral health in cats and dogs.
Just as in humans, dental disease can be a painful problem that often goes on to cause other problems like diseases of the kidneys or heart. It is only recently that we learned of the importance of oral health in humans and that is starting to cross over to veterinary medicine. I often hear my clients say that they have never been told about the state of the teeth in their cats before. I believe this is not because disease didn't exist but because we weren't focused on how important it was to healthcare.
Luckily, we have many tools to help prevent and control these diseases. Preventative care begins at home.
Brushing
The gold standard for every mouth is brushing. There are dozens of options for toothbrushes for your cat. From small headed long handled brushes to keep your fingers away to finger caps that fit over your finger. There are also a variety of toothpastes formulated just for cats and dogs. It is best to use these as they are safer and come in delectable flavors like beef and chicken. Toothpaste flavors are integral in training your cat. Start out by offering these delightful toothpastes on the brush allowing them to simply lick off the toothpaste from the brush. Once they accept this as a daily chore start to gently introduce the brush into the pocket of the lips eventually brushing back and forth gently.
Oral Rinses
So not everyone has the type of relationship with their cat that would make tooth brushing possible and that's ok. We have other options. Oral rinses go a long way towards decreasing the amount of bacteria on the teeth which prevents tartar build up and gingivitis. The best ones have a sports bottle type of design that allows a narrow straw to enter the corners of the mouth and with a gentle squeeze deliver some of the rinse into each side of the mouth.
Food and Water Additives
Ok, Ok, so you can't even pat your cat! I get it but you can still help prevent oral disease with additives. These liquids or powders can be added to the food or water. Most cats tolerate them very well and they work similarly to the rinses in that they try to decrease the amount of bacteria on the teeth. I prefer the Food Additives because most healthy cats don't drink enough water to make the water additives worthwhile.
Food
By using food in addition to one of the above, home dental care will really show results. Most people think that by feeding dry food it will help keep the teeth clean. Research studies show that cats who do not brush their teeth daily get equal amounts of dental disease whether they eat canned or dry food unless that dry food is formulated to decrease the tartar. Products like Hill's Prescription T/D diet and Royal Canin Dental Diet are specifically formulated to remove tartar from the teeth.
Using a combination of these dental products can go a long way to increasing the length of time between cleanings saving time and money. Make an appointment today to have your cat's teeth evaluated.