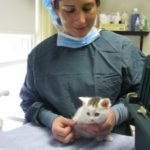 I was going to title this blog "Why are you mad at your veterinarian?"
Sometimes as a veterinarian during my examination of a cat, I start to give some options for dealing with some of the everyday problems that the cat parent has brought to my attention for instance, occasional vomiting, bad breath, itchy skin, etc. Every once in a while, a cat parent becomes quite agitated with my suggestions. Their face clenches, their words get clipped, the voice is raised and I am not sure why. Why are they mad at me? Maybe they feel I am suggesting that they do the impossible. Maybe they feel they can't afford some of the recommendations. Maybe they feel that the problem isn't actually a problem. I really don't know because the conversation becomes almost impossible to navigate because of the agitation level.
I always feel terrible when this does happen because I feel that I felt short of doing my job which is to be a health advocate for the little cat that is my patient. And I think if everyone who is interested in the best care for their pets would pick the right veterinarian for them, we could avoid this unpleasantness altogether.
Choosing your veterinarian
Now I believe that all veterinarians are kind hearted people who were called to this profession because of their love and commitment to animals. Believe me. No one chose this job because they were in it for the money, hours, lack of stress, emotional or physical comfort, etc. We work long hard hours to make sure your pet is well cared for while we miss dinner with the family every night. We drive our old cars so we can pay our student loans. We cry after we euthanize your pet.
So beyond making sure that your veterinarian is a qualified, up to date, skilled practitioner of veterinary medicine, make sure you like this person. You should feel able to ask questions of this person, learn from this person and communicate easily with this person. Most pet parents eventually have an emotional and difficult conversation with their pet's veterinarian. So make sure before that happens that the discussions about at home dental care, flea control and diets aren't difficult. Everyone communicates differently and has different personalities. That's why there is more than one veterinarian. Make sure you pick the best one for you!
Check out some of the testimonials from clients of the Cat Clinic of Plymouth.
By Cassandra Kelley DVM, veterinarian and owner Cat Clinic of Plymouth