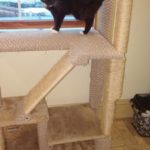 What is Environmental Enrichment for Stressed Cats?
What does your cat do all day while you are at work? Most likely the answer is sleep. But is there a way that we can improve life indoors? I believe that there is.
Some of my clients worry that by not allowing their cats the freedom of the outdoors that we are keeping them from the normal activities of being a cat. My answer is that although it would be more exciting to live in Iraq, I feel safer living in the United States. I think that with a little ingenuity we can make indoor life just as exciting as outdoor life but safer.
The Life of a Cat
Think of what cats do outside. They hunt, they climb, they scratch, they problem solve and they move! So how can we help them do this in the safety of their homes? Providing an enriched environment can prevent many behavior problems.
A Checklist for Relieving Stress
Vertical Space increases overall space available to the cat and allows them the opportunity to climb. Provide cat trees, cat perches and shelves.
Appropriate scratching materials allow the cat to exhibit normal cat behavior to mark territory, stretch and keep claws healthy. Each cat has a preference for scratching material. See my blog regarding how to train your cat to scratch appropriately. https://catclinicplymouth.com/blog/
Interactive Toys and Hunting Games provide both mental and physical stimulation. Play with your cat several times a day allowing them to stalk and catch!
Keeping the home predictable without being rigid keeps cats from being bored. Making small changes that provide novelty like rotating toys or purchasing new toys. Cats play the most with interactive toys that involve their human.
Make feeding more natural for your cat. Cats in the wild forage for food and eat 10-20 small meals daily. Although I recommend a majority of the diet be canned, dental kibble can be fed in small amounts using interactive food toys or balls, food puzzles or hiding it around the house for the cat to hunt.
Provide cover to hide in. Boxes, bags and carriers left out can provide these coveted spots.
Provide interaction outside. Cats can be trained to walk on a leash. There are also companies that can design a cat safe outdoor enclosure. Simply having some bird feeders in window near their perch can help.
Clicker training or training for food can teach your cat to sit, come or do a variety of other "tricks."
Finally, cats are social animals. So even if you are tired after work. Try to carve out some time to groom, pet or play with your feline furbaby. You will both benefit from it!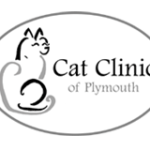 By Cassandra Kelley DVM, veterinarian and owner Cat Clinic of Plymouth