Happy Chip Your Pet Month!
By Cassandra Kelley DVM
What?!? Well the Cat Clinic is happy to participate in "Chip Your Pet Month" this May. Having your pet microchipped might be the best chance for reuniting if they were to become lost.
I want to let you know how important I think microchipping our pets can be to ensuring that lifelong bond. All of my indoor cats are microchipped. Of course, I have one favorite black and white boy cat that will try to escape once in a while, but he never gets far.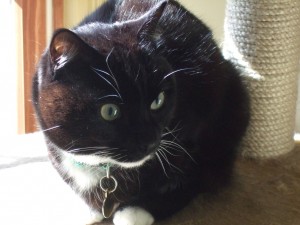 The remainder of my cats is content to stay away from the doors. But I learned a great lesson from the tragedy of Katrina as well as other recent disasters. Sometimes you have to leave a pet behind in a disaster and sometimes they get lost during a household tragedy. Therefore I took every precaution that I could to ensure my babies are safe and stay together for a lifetime. And it's easy, safe and affordable!
Actually implanting a microchip is simple and well tolerated. Even that black and white boy cat put up with it. It is much like receiving a vaccine and is done without sedation. The microchip can be implanted under your cat's skin between the shoulder blades. The doctor or technician can implant the device during a routine wellness exam or as a special appointment with a technician just for installing the microchip. Here at the Cat Clinic of Plymouth, we use microchips and database called HomeAgain. Visit www.HomeAgain.com for more information.
A Microchip is a small circuit smaller than a grain of rice that transmits a unique identification number that can be read by a microchip scanner. HomeAgain has ensured the safety of the chip and even has invented an "anti-migration surface" to keep the chip in place. All shelters and animal hospitals have universal scanners in order to "read" the unique number that identifies your pet no matter what company produced the chip. Once your microchip is registered with a national database, the database can be contacted to report a lost or found pet. The database will attempt to reach the owners on file, therefore it is imperative to update your information routinely. All too often, we have kitties with microchips that are brought in by a good Samaritan but is not reunited with their parents because the information was obsolete!
For $19.99, the Cat Clinic of Plymouth can register your chip – no matter when it was implanted or by whom – with HomeAgain. This ensures that your information is up to date and also comes with a year of ..
Personalized Lost Pet Posters
24/7 Lost Pet Specialists
Rapid Lost Pet Alerts
Lost Pet Recovery Network
Travel Assistance for Found Pets
24/7 Emergency Medical Hotline
These great benefits can be renewed at the end of the year, but your information will never be erased from the database. Your information can be updated at any time for no additional fee.
To celebrate May as "Happy Chip You Pet Month," the Cat Clinic of Plymouth is offering microchip implantation and registration for $39.99.
Make your appointment today by calling 508-746-8580, emailing info@catclinicplymouth.com, or through your Petwise account. Once implanted, the Cat Clinic of Plymouth staff will register your current information with the HomeAgain database.
Sincerely, Dr. Cassandra Kelley