Olive – her brave story of hyperthyroidism
Many of you who know me have heard the story of the acquisition of our second cat Olive. My husband will swear that this story has undergone some serious literary privileges over the last thirteen years or that it has been victim of my Irish ability to spin a yarn, however I ascertain that this is the God's honest truth.
My husband, fiance at the time, and I had discussed getting another kitten for our cat Finn. We already had a Chesapeake Bay Retriever, a rabbit and Finn. I felt that our small family was complete especially as we were just about to get married and still living in a rental. Therefore, my recollection of the conversation went something like this.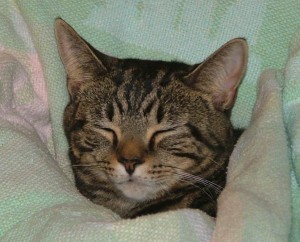 My husband: "Do you think that Finn would like to have another cat as a friend?"
Me: "No."
A short time later… and this is where I will admit to not remembering how long after that fateful conversation this next incident occurred. I received a voice mail from my husband that sounded something like this….
"Hey, it's me. I'm driving home now. Remember a while back we talked about getting a kitten friend for Finn? (meeeeeoooooooow – in the background) Well, I think (meeeeeoooow, meeeooow) I may have found one. So, I guess (meeeooooowww) we can talk about it (meeeoooowwwwww!) when you get home tonight. (meeoow) Ok, see ya."
Since then she has wormed her way into my heart but not without some trials and tribulations. Oh and by the way, it turns out Finn did not in fact want a friend.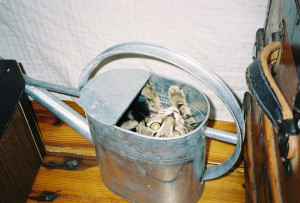 Over the last two years, Olive had begun to show some signs of hyperthyroidism. She was overly playful for her age, she began frantically searching for food, her weight declined despite being hungry and eating. However it wasn't until recently that her blood work actually agreed that she was indeed suffering from hyperthyroidism or overactive thyroid gland.
Cornell University Information on Hyperthyroidism in Cats
Hyperthyroidism is a common disorder in cats as they age. It results from an overproduction of thyroxine the thyroid hormone from overactive cells of the thyroid gland most likely a result of a non-cancerous tumor of the thyroid gland called an adenoma.
The thyroid hormone controls many of the body's functions including metabolism, blood pressure, and heart rate. That's why untreated thyroid disease can cause so many other diseases some of them life threatening. Luckily thyroid disease is a very simple disease to treat.
Signs of hyperthyroidism can include:     
weight loss
increased appetite
increased activity and restlessness
aggressive or "cranky" behavior
a poor hair coat
a fast heart rate
increased water drinking
increased urination
periodic vomiting
increased amount of stool or diarrhea
occasionally difficulty breathing
occasionally weakness
occasionally depression
Hyperthyroidism Information from Washington State University Veterinary School
Traditional treatment involves Methimazole, an antithyroid medication that controls the symptoms of the disease. Most cats tolerate this medication well and the medicine can be made into all sorts of formulations. Although some cats can have some gastrointestinal signs while getting used to the medication, this resolves in the first few weeks of treatment. A small percentage of cats have a more severe reaction to the medication which resolves when the medication is withdrawn. That's why we check bloodwork after taking the medication for several week and also to make sure the dose is correct.
Well, poor little Olive did not react well to the medication. She began vomiting uncontrollably even while hospitalized with medications to alleviate the nausea.
So Olive will undergo Radioactive Iodine Treatment to irradiate her thyroid until it behaves. This is a more permanent treatment. Most cats are cured with just one subcutaneous treatment. The injection of iodine is taken up by the most overactive cells as the thyroid gland uses iodine to make thyroid hormone. These overactive cells are then killed with the radiation leaving most cats with a normally functioning thyroid gland.
There are other options available. Hills Prescription Y/D is iodine restricted food. Remember the thyroid gland uses iodine to make thyroid hormone. So if there isn't any iodine they cannot overproduce thyroid hormone. That works for many households that can restrict any other diets for that patient. It wouldn't work in our house that is now up to 3 cats and a dog.
Surgical removal of the gland can also be considered. However, this requires general anesthesia and usually ends up with the removal of the important parathyroid gland which is necessary for control of calcium in the bones. So it is not my favorite choice.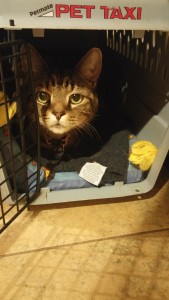 So, Olive sits patiently waiting for her appointment at VCA South Shore Animal Hospital for Radioactive Iodine Treatment. Don't tell her but unfortunately it is not for another week. Although she is very sweet, she is not always the brightest bulb! We will get back to you with her results after her treatment.
VCA Radioactive Iodine Treatment
Cassandra Kelley DVM