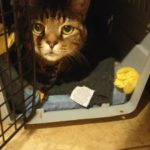 By Cassandra Kelley DVM
At the Cat Clinic of Plymouth, we know that our clients want their cats to have a happy and healthy life. Part of achieving this level of wellness is by scheduling preventative care visits routinely with your veterinarian. However, getting some cats to the animal hospital for their veterinary visit can be a bit stressful for both you and your cat.
Guide to a stress free veterinary visit
Here is a checklist for making that trip to the animal hospital to see your veterinarian much less tricky.
Choose the correct carrier for your cat.
Familiarize your cat with its carrier
Use feline facial pheromones
Ask your veterinarian if they recommend any other medications for travel
Cover the cat carrier for travel and for entrance into the animal hospital
Make a list of changes in your cat and questions that you want to ask the veterinarian
Allow your cat to familiarize itself with its new surroundings in the exam room at the animal hospital
Make an appointment at a veterinary clinic designated as a Cat Friendly Practice by the Association of Feline Practitioners like the Cat Clinic of Plymouth