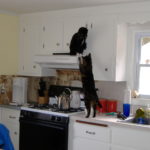 Is household cleaners toxic to cats? There are many substances that are toxic to cats that are fairly well recognized and others such as everyday household cleaners that are not recognized for their toxicity.
Household cleaners that are toxic to cats include the following
Floor Cleaners
Bathroom Cleaners
Laundry Detergent
All-purpose Cleaners
Glass Cleaners
Drain Openers
Toxicity can occur through accidental ingestion from a variety of manners. Even minute amounts of some toxins can cause damage. Because cats are such great groomers they can lick chemicals from their fur or paws.
Potential ingredients that can cause toxicity include
Used in many de-greasers for ovens, glass and stainless steel, ammonia has a very high VOC, burns mucous membranes and contributes to asthma. It creates a poisonous gas if it is mixed with bleach, it which can be deadly to small pets.
Used in disinfectants, toilet bowl cleaners and automatic dish detergent to name a few, chlorine is also used to bleach coffee filters. It can cause everything from dizziness to vomiting to laryngeal edema
Used in products such as soaps and even some pet shampoos, it can contribute to asthma and is carcinogenic.
Found in many cleaning products including glass cleaners, carpet cleaners and spot removers. It has been linked to anemia, lung damage and kidney damage in people and pets.
The Cat Clinic of Plymouth is committed to pet safe cleaners by using Shaklee Get Clean Products.  Shaklee Get Clean® products are natural and nontoxic cleaning choices that are Safe for You, Your Home, and Your Planet®. And your pet!
No harmful fumes or hazardous chemicals.
Outperforms 20 national leading brands.
Features Basic H2® Organic Super Cleaning Concentrate – just 1/4 tsp. makes 16oz. of all-purpose cleaner for only 3 cents.
Makes a positive impact on the planet:
Keeping 108 pounds of packaging waste from landfills.
Eliminating 248 pounds of greenhouse gas.
See Dr. Kelley's website for more information on Shaklee Products
If you think your cat has been exposed to toxic household cleaners, please call for an appointment or visit our make an appointment page.